[Characters] [The Inducks] [DCML home]
Bolivar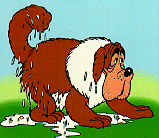 Donald's Saint Bernard dog. He appeared in the newspaper comics with Donald. One of the first appearances is the strip from March 17, 1938.
Later Carl Barks used Bolivar in a few times, at least in WDC 43, WDC 76, WDC 82, WDC 125, and The Gab-Muffer in OS 1047.
In WDC 125 he was called Bornworthy instead, supposedly because people in Colombia had complained about a dog having the same name as Simón Bolívar. For the same reasons the dog was called Bernie for a while in the newspaper strips of the 1950s, and Bornworthy/Bernie is still the official name at Egmont.
In the mid-1940s in the daily Donald strip Bolivar had a pup named Behemoth, or Behe. Barks used this pup in WDC 111 where Donald uses Behe (as he's called there) to track down the boys.
Find the names in other languages for: Bolivar
---
Last updated April 3, 1999.


[Characters] [The Inducks] [DCML home]