[Characters] [The Inducks] [DCML home]
Junior Woodchucks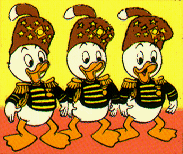 The scout organization in which Huey, Dewey and Louie are members.
They are created by Carl Barks and debuted in Walt Disney's Comics and Stories #125.
General Snozzie is the Offial Hound of the Junior Woodchucks.
In Scandinavia their name means woodpecker or some special kind of woodpecker, but actually the woodchuck is a member of the squirrel family. See this page about woodchucks if you want to learn more about them.
Their famous guidebook was seen for the first time in Secret of Atlantis.
Find the names in other languages for: Junior Woodchucks
---
Last updated February 16, 1999.


[Characters] [The Inducks] [DCML home]