[Characters] [The Inducks] [DCML home]
Daisy Duck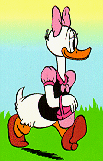 Origin
In the 1937 cartoon Don Donald there was a Donna Duck who can be seen as the first appearance of Daisy, or perhaps as a precursor of Daisy. The next appearance was in Mr. Duck Steps Out (1940) where she had the right name.

The British magazine Mickey Mouse Weekly featured Donna in their comic from May to August 1937. (Then Donna was supplanted as Donald's co-star by a sailor named Mac, who was featured there until May 1940.)

Daisy's first appearance in comics was on the Donald Duck daily strip from November 4, 1940. Her first appearance on a Sunday page was perhaps on December 15, 1940

Carl Barks first used her in WDC 36.
Related characters
Daisy lives in Duckburg and is Donald's girlfriend.
She is the aunt of April, May, and June. In WDC 204 she has an (unseen) Aunt Matilda, and in WDC 312 an Aunt Drusilla.
Sometimes it seems like she is related to the rest of the Duck family. For one thing her last name is Duck! She has referred to Scrooge as uncle at least in Clothes Make the Duck (US 32) and Hall of the Mermaid Queen (US 68). In the worksheet of Don Rosa's Duck Family Tree she was the sister of the father of Huey, Dewey, and Louie, but that never made it into the published version.
Other sources
Rich Bellacera's HooZoo page.

Find the names in other languages for: Daisy Duck
---
Last updated February 17, 1999.


[Characters] [The Inducks] [DCML home]