[Characters] [The Inducks] [DCML home]
Gus and Jaq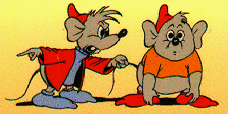 Two mice who originated in the movie Cinderella (1950). Jaq is thin and Gus is fat.
In addition to living with Cinderella, Gus and Jaq have long been depicted as living on Grandma Duck's farm. David Gerstein has written on the list:
I believe that the 1950 issue of Vacation Parade has a story about Gus and Jaq having left home and wandering through the city. (They have a memorable encounter with soda-clerk Daisy Duck.) Then a few months afterward, the GD feature began in WDC&S, and there it's explained in the very first one how Gus and Jaq came to live with Grandma.
The first of these stories was in WDC 121. It seems that Disney and Dell were determined to build a connection between the main comic characters and the new movie for promotional reasons, and Grandma Duck's farm seemed the most comfortable place to put two mice from the movie. Around the same time they were introduced on Grandma's farm, they appeared in the Mickey Mouse newspaper comic strip by Floyd Gottfredson in stories such as Mousepotamia. Curiously, there was one major change in the Gottfredson strip--instead of being shown as small mice towered over by the main human characters, they were depicted as anthropomorphic mice the same size as Mickey.

[By Jonathan Markoff.]
Other sources
Rich Bellacera's HooZoo page.

Find the names in other languages for: Gus and Jaq
---
Last updated August 25, 1997.


[Characters] [The Inducks] [DCML home]